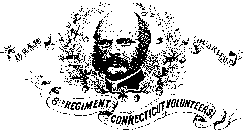 Eighth Regiment Connecticut Volunteers
Company A, Inc.
Roanoke Island, NC Event Report
Roanoke Island Festival Park
Manteo, North Carolina
February 17-18, 2001


February, 1862

Dear Father,

I have not long to write, as we are expected to go into action sometime soon, and I would like this letter to be posted before we depart. I did want to tell you of the 8th Connecticut's experiences since we arrived at Roanoke Island.

We arrived this past Friday, and what marvelous weather. We landed on the shore, the first unit to arrive. Joining up with another naval unit, we marched in with colors flying to the spot where we would camp. It was during this time that 1st Sergeant Liska and I spotted a small boat, which we thought might add some amusement to our stay here on the island, although nothing was to become of it. After the wagon had followed, we unloaded our gear and found the most suitable place to erect our tents. The A-Frames went up in short order, and we made plans to scout around a bit. Corporal Bingham decided to stay and watch our camp, so the rest of us made off to see just what Roanoke Island had to offer. The folks we met were very nice to us, especially the ones whose land we were occupying for the moment, which was a bit of a surprise, them being Southern folk and all. The better part of the afternoon was spent hiking on the beaches looking around for areas that might prove useful for fortifications or battery emplacements. We did, while this was happening, go down a small lane whose landowners did not think very highly of us. They had small markers on their property warning trespassers to keep away, and when we so much as stepped one foot on their grounds, they came out of their house and glared at us. Now, we had more in numbers, but seeking a peaceful outing instead of a confrontation, we turned around and headed another way.

When we returned we found other units setting up their tents. The seamen who marched in with us camped next to us. We prepared to get some rest, so after spending some time at the campfire, we went to bed. During the night it rained quite a bit, but I do not believe any of us got too wet, although Corporal Elwell managed to wake up with his left arm saturated.

Morning offered a damp, cold reception, and we found our fire pit filled with rainwater. After bailing out our pit, a great amount of effort was spent trying to muster up a fire. We generated quite a lot of smoke, but a few flames did appear, so we cooked our breakfast as best we could. After breakfast, I spent some time with a new recruit, Private Reid, drilling and going through basic maneuvers. He is proving to be most capable. We also did some company drill during the day. The weather did improve, but the temperature remained quite brisk. I also took some time to take out my pen and send a short note to my sweetheart back home.

When night approached again, we clustered around the campfire to soak up some heat and fortify ourselves for what looked like a very cold night. It was at that time that the folks next to us came over and sang sea chanteys. They were all very good, and it was quite obvious they enjoyed singing as we found it difficult to get them to stop. We had some tunes up our sleeves as well, so all in all it was a most enjoyable evening. Until we stepped away from the fire.

It became brutally cold during the night. It was the coldest I personally could ever remember, quite a change from when we first arrived on the island. As I prepared for a sleepless night, the friendly landowner, a Mr. Woodson, I believe, offered us his residence to use for the night. That is something I shall not forget; the people whose land we were using were excellent hosts, gentlemen every one.

Morning came with clouds and a brisk wind as we received orders that we were going to be leaving soon. We had orders to move somewhere else, so after a quick breakfast we hunted down Mr. Woodson to thank him for his excellent hospitality. As a last gesture of kindness, he let us tour a ship that was nearby, one that resembled the same ship that brought settlers over when the colony of Roanoke was first founded. It was quite a beautiful ship, and 1st Sergeant Liska and I again plotted to take it as our own. The ship had a small boat tender that looked quite appealing as well. The non-sailors of the group failed to appreciate the true beauty, but 1st Sergeant Liska and I were quite enthralled.

After saying good-bye to all our wonderful hosts, we packed up our gear and are now preparing to leave. I am glad I was able to get a chance to write to you, Father, as this has been quite a memorable experience. Please give my love to Mother and to Rebecca. Ask her to send me another pair of socks if she is able; it is very nice having a sister who does such things.

I hope to hear from you again soon. Until then, I shall remain,

Yours,
Nathan




THE SECOND BURNSIDE EXPEDITION



On President's Day weekend this past February (2001), a contingent of the current Eighth Connecticut followed in the footsteps of the old Eighth and journeyed to Roanoke Island, North Carolina. We arrived by van, not by boat as they did then, to participate in a living history event sponsored by the Roanoke Island Festival Park, a local historical park.

After a long, overnight drive, we arrived at Roanoke Island on a sunny and warm Friday morning. We set up our camp on the grounds of Festival Park, which is located on the shore of Roanoke Sound, on the northeast side of the island. The Park and its facilities are beautiful and the staff was most helpful and accommodating.

Our early arrival allowed us to explore the Island, and to trace some of the routes followed by the Union troops and the Eighth Connecticut. We stopped at the site of the 3 Gun Battery which anchored the Confederate line, and was flanked by Union troops advancing through the adjacent swamps. We found the location of Ashby's Harbor on Croatan Sound with surprising ease ( and the help of a local resident). It was here that the Eighth waded ashore on February 7, 1862 and spent a miserable night in heavy rain. At the request of our Sergeant Perlotto, one of our group, Corporal Nate Bayreuther, took samples of the sand at the landing to bring back to Connecticut. A link with our past! The Eighth was in reserve at Roanoke Island and spent some time in this landing area.

Moving on, we tried to find Fort Barlow, which Union gunboats shelled, but were prevented by local access problems. We were able to see, however, the remnants of Fort Huger on the northern portion of the Island.

Back in camp, we spent a comfortable, albeit wet, night. Saturday began with a parade of Union and Confederate troops from a local park to Festival Park. The Eighth's colors led the way! Throughout the day, the Eighth participated in a number of living history events. As the sole Union infantry unit we demonstrated drill, firings and gave a presentation on our uniform and accoutrements. We were treated to a fine dinner by the folks at the Park and enjoyed their hospitality again that night. Thanks to Chris Woodson of the Museum staff and all at the Park for a great visit.

Sunday saw us back on the road to Connecticut. Stops included Suffolk and Petersburg, locations where the Eighth Connecticut camped and fought. Especially memorable was the field at Petersburg where the Eighth charged and overcame a rebel battery. We returned to the cold of Connecticut in the wee hours of Monday morning with fond memories of our "second" expedition to Roanoke.

B.L.





E-Mail Us for More Information!
Eighth Regiment Connecticut Volunteers, Co.A, Inc.
8cv@comcast.net